Outdoor Fixtures
We have the latest in outdoor lighting products.
These are exciting times to be in the lighting industry. New innovations in product design, power systems and lamp technology are changing the way people are lighting the world.
Sav-Elec, Inc. can plan ways to reduce your energy usage; whether your building is being planned, being built or completed.
We represent over 30 lighting manufacturers and carry lighting fixtures in a variety of shapes, colors and styles for any setting. Whether you need industrial fixtures or distinctive lighting for your office, Sav-Elec can provide the lighting you're looking for.
Here's some information on the manufacturers we represent and the products they make:
Ruud Lighting
At RUUD Lighting, the emphasis is on quality every step of the way, from carefully developed design concepts to advanced manufacturing techniques and rigid quality-assurance measures in all areas. They're committed to providing the highest-quality products, at exceptionally low prices.
Security Lighting: Versatility is the word most commonly used for Security fixtures because of the many indoor and outdoor application possibilities. The variety of housing styles, optical systems and lamp types provide easy fixture selection to meet every need. The luminaires are designed for uniform, glare-free light distribution. RUUD Lighting Security fixtures are also built for flexibility and easy installation with a variety of mounting positions.
Refractor Wall Pack

Square

Surface Square

Rectangular

Circular

Bollards
Flood & Area Lighting: The various dayform shapes of Flood and Area lighting fixtures may be distinctly different but have one thing in common - Ruud Lighting dependability and value. Ruud Lighting has the proper luminaire and optical system for the job whether the project calls for:
Landscape Lighting: Luma After-Sunset. The same great quality, performance and ease of installation you have come to know from RUUD is available in Luma After-Sunset low voltage (12v) landscape lighting system. Whether you desire decorative accent lighting or increased security, the Luma line will help you design a system to meet your needs.
Path Lights are perfect for walkways, borders, steps, driveways, flower beds and entrances. Directional Lights give a dramatic look by creating shadow effects, uplight through branches, spotlights on trees or flowering bushes, highlighting pieces of sculpture or by accenting the architectural detail of a building. Step Lights are embedded fixtures for stair lighting that complement brick, stone, or wood stairwells.
Retractable lights bring nighttime landscapes alive without taking away their daytime beauty.  What a great idea...a fixture that vanishes into the ground when not in use and reappears only when needed. We offer outdoor fluorescents for bright, energy efficient light for sidewalks and parking lots.
Transformers

Cable

Path Lights

Directional Lights

Well Lights

Step Lights

Low-Voltage Track

Retractable Bollard
Specialty Lighting: Designed for task-specific applications. Included are products for illuminating canopies, soffits and parking garages. Also contained in this section is a complete line of emergency exit and indirect lighting products.
Canopy

Recessed Canopy

Indirect

Parking Structure

Emergency
Industrial Lighting: In addition to typical industrial applications, Industrial fixtures are used in many other areas, including commercial and retail projects.
Die-Cast High Bays and Low Bays

EZ Bay® High Bays and Low Bays

Mini Industrials

Aisle Light

Wet-Listed Low Bay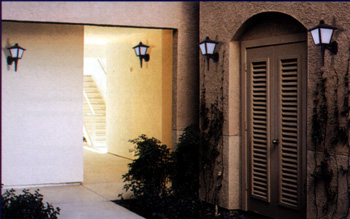 Lightway Industries
Lightway luminaries are perfect in Hotel, Motel, Office, Health Care facilities, Multi-Unit Residential, Commercial and Industrial applications

UL Listed, suitable for wet locations

Brownlee Lighting
Since 1977...Brownlee Lighting has been a preferred supplier of cost-effective, energy efficient lighting products designed for Hospitality, Multi-family residential and Commercial installations.
Magnaray® International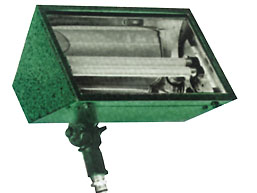 Magnaray® International uses the latest ballast and lamp technology available to handle an extremely wide variety of applications, with properly designed and tested luminaries, so the value to cost relationship provided for the end-user is the greatest possible.
Standard Finish

Clear Anodized Aluminum

Other colors available
Electro Elf
All Magnaray® lights are constructed for the harshest of environments and can be mounted on posts, walls or hang from a chain to light your walkway, golf course or yard.
Energy Efficient Compact Fluorescent Lighting

Introducing Our Brand New Walkabout Path Light

This BRAND NEW design is vandal resistant, almost indestructible and will handle as much as a 1000 lb. footprint

Eliminates the need for that ugly junction box

Maintenance free

10,000 hour bulb

40,000 hour ballast

Easy installation

Great for harsh environments

Weedeaters cannot damage it
Model FL-13
ETL wet location listed

10,000+ hr lamp life
Pagodas